We used to just feed all our dogs on Purina Pro-Plan - then changed to BARF in an instant once we had done the homework on what it entailed and once we had sourced a stable supply of carcasses. We had also noted that our dogs were getting fussy about what "flavour" kibble the shop actually had in stock at any time - so the change-over was kibble one day - RAW meaty bones the next - and that was 2 years ago - and we have never looked back.
The benefits to - Health; Coat; Teeth; Breath and Vitality showed itself quickly as well as the poo - which was almost odourless; less of it AND it if was not picked-up straight away - it dried to a white chalky pellet that almost turned to dust if disturbed.
We moved the weening of the puppies across to Royal Canin (Medium Junior 32) as Ziggy's offspring were notably smaller than our previous stud Poodle Pinot's - and we needed a smaller kibble.
It was on ILMC that we first heard of Natural Instinct and Orijen - as our adult dogs were all on "our" version of BARF (as there are so many differing menus as such - inc fish etc) we really wanted the puppies to also have a more natural diet (especially as "cereals" were a "no-no" for us).
We looked into NI - but all we would need is to liquify what we fed our adults - BUT realised it was a big ask to expect our customers to carry it on - knowing most would just go onto a kibble for convenience's sake - so Orijen fitted the bill ! A natural diet all in kibble form - and now all our puppies are weened onto that - and we give a sample 400g bag with each puppy in the puppy pack (along with Tropiclean Shampoo and De-Tangle Conditioner !).
Another unforeseen benefit to us was that Mum used to stop cleaning up after her pups when they were being weened - but with Orijen - she still cleaned up right until when she left them at 7 1/2 weeks old !
With all the excitement about BARF and Natural diets - I thought that I would show you all how we do things here:
The JD BARF:
We feed each of our adult dogs a single RAW chicken carcass every day (a raw chicken minus wings; legs and breasts - what most restaurants buy-in for making stock):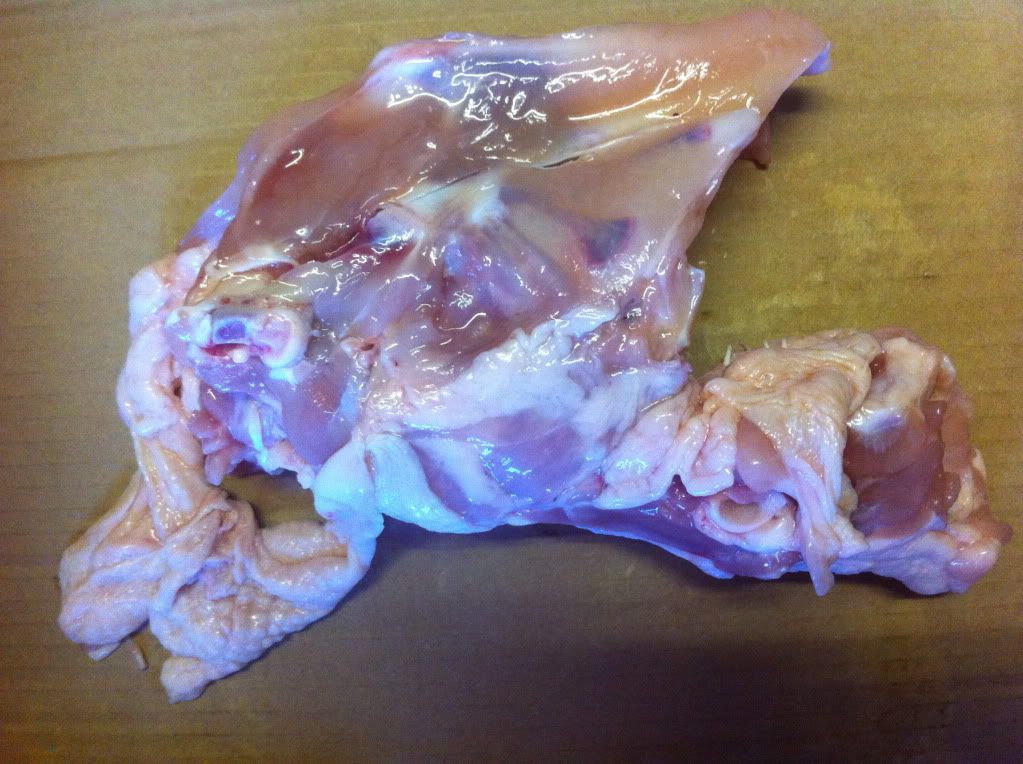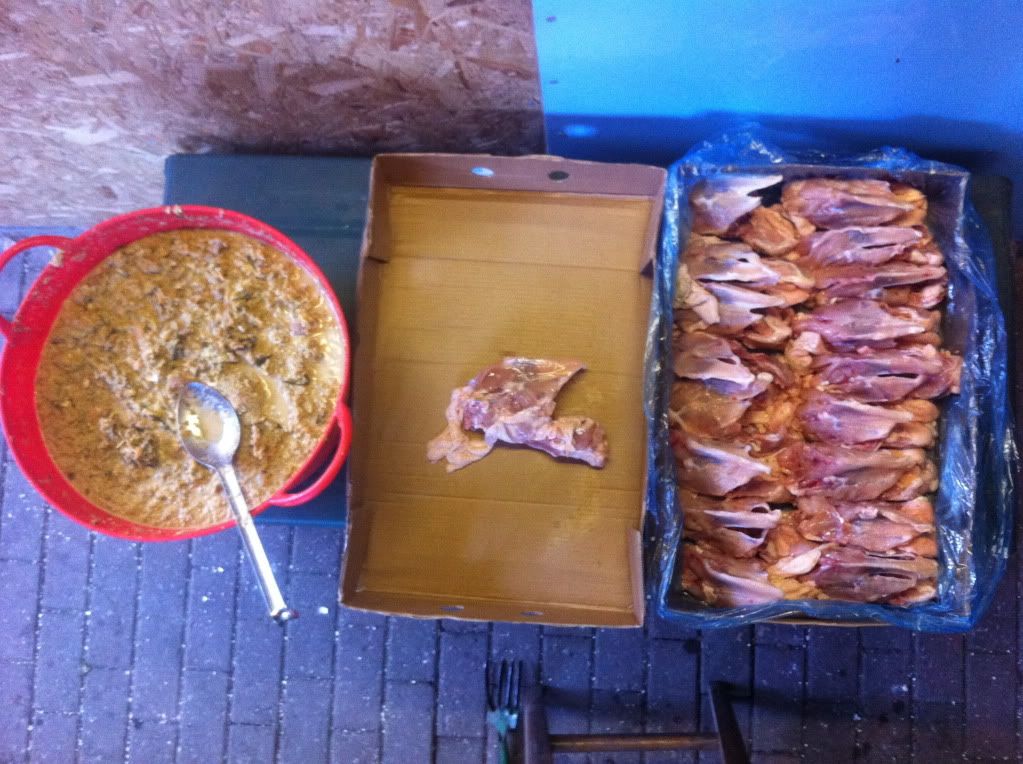 Once a month we prepare a "veg" mix (though this does have meat as an ingredient).
We get - broccoli; cauliflower; swedes; turnips; carrots; greens; cabbage and often add - apples and pears too:
We chop all these up into "soup" size bites - the pic shows just a "Mum Mix" for the 10 mums):
This veg mix is then lightly steamed - as to make it "al dente" - not over cooked:
We then slice and dice any "offal" such as kidneys; liver and dog mince and just add that straight into the warm veg bucket: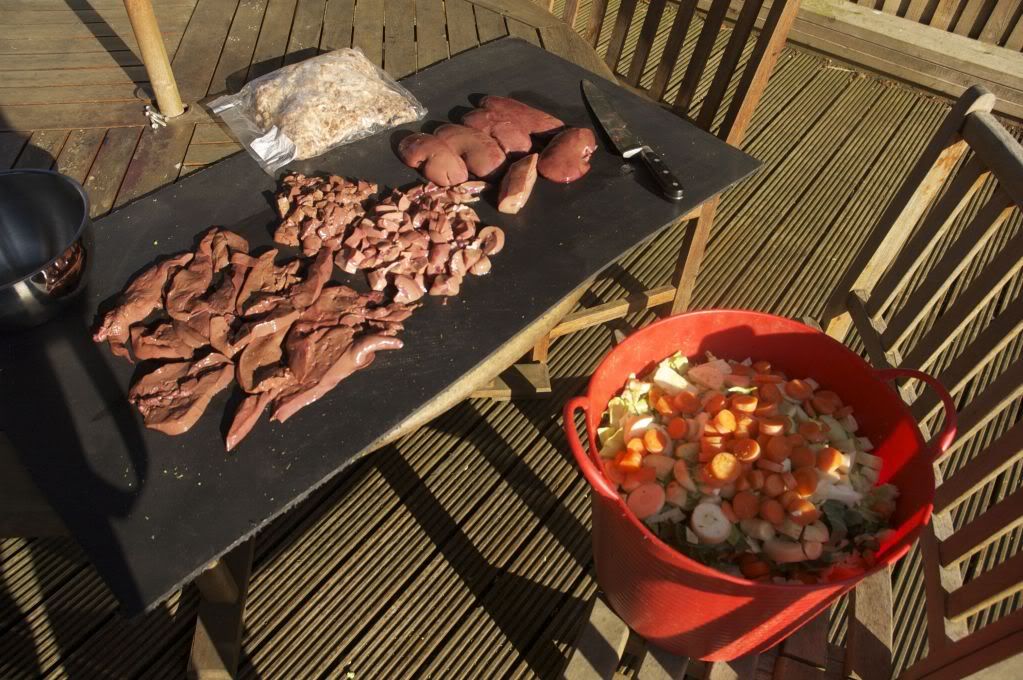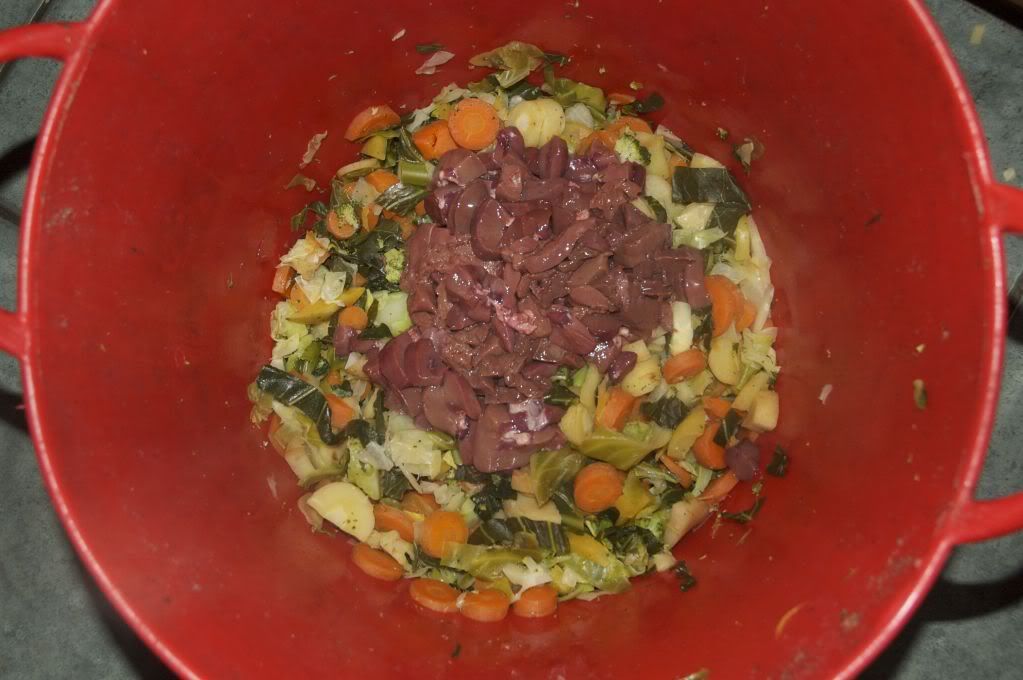 Top that with more steamed veg as it is ready:
And add the eggs (raw and including the shells) to the still warm veg/meat mix and whisk (due to volume we use an electric drill and a plaster mixer !!!)
We add one whole egg per dog.
This mix is then left to cool off for a while (the veg will still be hot and gently heats/cooks through the meat and eggs too.
The resultant "porridge" mix is then ladled into dog bowls (each bowl is filled level) and then given to the dogs - it normally takes about an hour to prepare and then 1 minute to eat !!! (as per most Sunday Roasts !) - and then I am left to do the washing up !!
As I mentioned above - this is prepared at least once a month - though new mums can have this once a week - it depends on whether or not they look to eat grass when in their paddock (dogs have a natural ability to adjust their diet if they feel it necessary and eating grass and digging up grass roots is normally a digestive aid).
So a typical month would be - raw carcass every day - except once a month this veg/meat/egg mix (in place of the carcass) - then the following day is a "starve day" (no food at all) then the day after that back to the carcass and so on.
The BARF diet is supposed to replicate a natural diet - what dogs would actually get to eat if running wild (remember it is US who "domesticated" them !).
The veg element would be what they would eat from the stomachs of any prey or carrion they would find - and the starve day also aids with their detox as well as being a true fact of being in the wild (sometimes they would not feed for a few days if pickings were slim !).
...........Natural Instinct (NI) is basically the same in simple pre-packed pre-portioned frozen packs - and Orijen is great for pups - new owners can then make whatever choice they want from then on xx
You can even mix meat with Orijen too if you fancied.
Stephen x