Max is not an easy dog to photograph, and I am still learning, but Hubby and me have managed to get some decent shots this morning!
Max is now 5 months old and is about 14 inches high to the shoulder. He is 18 inches from his breastbone to his bum and when last weighed he was over 6kg (mind has gone blank!). He still enjoys his walks and absolutely loves to chase a ball and is just about giving it back.. He still loves his toys and belly rubs and curling up at our feet to sleep. He is perfectly well behaved in his crate, and is happy to be left when we need to pop out as long as he has a bone or a chew. He even does some very excited jumps and twists on the way to the freezer to get a bone and goes straight to his crate to have it
He's still so good with the kids and still loving his Natural Instinct and Chicken Wings. He does have a bit of a digging habit, likes to ruin certain plants and pull things out the bin.. he hasn't chewed any clothes for a while though!
Here are the pics.
4 week old Max for comparison!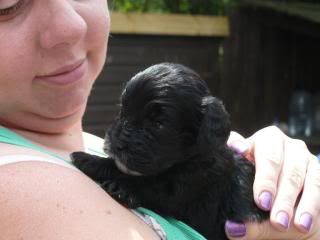 Max modelling his new Equafleece!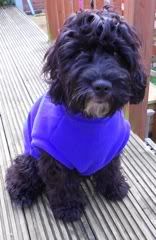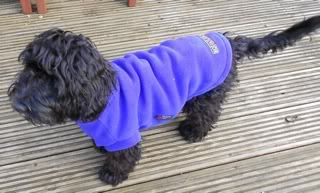 "I have no idea what happened to the plants.."
Without fleece, he's quite curly!
Awww
Red Jumper Equafleece
Oscar and Max, best of friends (For Ali
)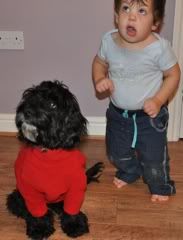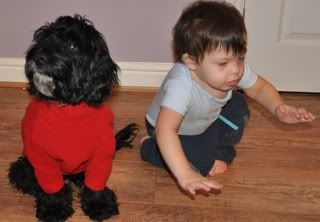 I hope you like them! xx