Discussion Starter
·
#1
·
Well, we arrived at JD's after 2pm, had a nice cuddle with Max pre bath, then we went out to see Woody and Woodetta, Basil and Luna (who I had a nice cuddle with, she's so big and wriggly but gorgeous!!). Stephen then very kindly took us over to see the bitches and Ziggy, Fester, Yum-Yum and Buzz, and we may have even seen some very very tiny but cute little puppies, whilst Max was bathed. He was such a fluffball afterwards
The journey home was about 3 hours. Max spent the first hour on my lap, licking me, snuggling into my neck, and generally being wriggly and excited
he then settled down for a few short naps and was very good whilst I nipped into McDonalds for milkshakes and then Tesco for yogurt and chicken..
He went straight into the garden when we got home and had a good look round and did 3 wees. Then into the house, where he did 2 more tiny wees... ahem. He went into his crate a couple of times for a look and to drag out a toy or 2. As my sister and niece were leaving, he did a poo on his rug, which was a bit of a pain but nevermind! He was fed at 9pm, Origen and some chicken and yogurt, as advised by Stephen, and he ate most of what I put down, in his crate. He had some water too, then he passed out for a bit once the kids were in bed.
We took him out at 11pm, but he didn't do anything, so we popped him in his crate and went to bed. He whimpered for a bit, and it was horrid, but he did settle down until 4am when he started again. Hubby and me came down, and I took him outside where he did 2 poos after a few minutes
Yay
Hubby then went back to bed and I stayed down with Max, dozing and cuddling. I gave him some water, which he drank happily, and he is now snoozing on the sofa next to the kids whilst they play on the XBox..
Kids have a swimming lesson at 9am, I am hoping to get a nap in somewhere this afternoon! Must send Hubby out for some more kitchen roll!
Will be ordering the NI today, the sooner we move onto 70's poo the better! I have added some picture (not of poo hahaha) below, I should think we will take lots more today!!
Getting to grips with the camera bag strap before his bath..
Cuddles with Hubby whilst I go through the puppy pack with Julia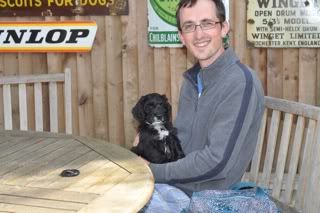 His "cute as anything look"
Relaxing at home
He likes this spot alot!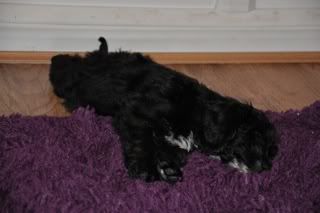 Playing with Oscar (who is not drunk, honest!)
It's so great to have him home, but it seems slightly surreal at times!!