Discussion Starter
·
#1
·
Molly came to me when she was 18 months old as her previous owners were struggling too much with her behaviour and in their words she was attacking their younger dog for no reason at all. I was assured she had never been aggressive to the humans in her family especially the two children she lived with - but found out a few nights later that was not true when she stood on my bed and informed me with teeth it was hers now and I was not to go near it
(this was confirmed later from her old vet records when they had spoken to the vet about her aggression to the children and adults)
She had not been walked much so pulled on the lead enough to make herself choke, had never been offlead and when I gave her a long line to run on all she wanted to do was chase birds so she showed me no attention at all and just ran after the closest bird and barked wildly at it. She apparently knew sit - but her owners could not demonstrate this
so she was pretty much totally untrained - and prepared to use her teeth to get her own way
I had been assured she was fine left for up to 4 hours - but also found she had severe separation anxiety and freaked out totally as soon as the door was shut. A brief try with her in a crate led to her scraping her paws in an attempt to get out.
So - my lovely new dog was a resource guarder, with separation anxiety and zero training - this is her then - sad, shut down and not a happy girl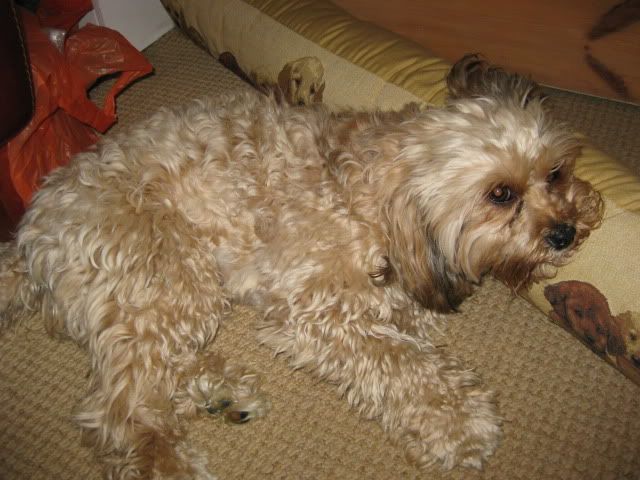 The most pressing need was her separation anxiety as I work so I agreed with a trainer friend (the one who's fault it was that I have her) that I would take her to her house while I was at work and pick her up after work, although the slight flaw in that plan was her behaviour with other dogs and aggression towards them
I have now had her for three years and she has come a long way!! Resource guarding only rears its head now and then when she gets stressy about things, she goes off lead and (usually!!) behaves well even if there are birds to be chased and she is pretty good with other dogs although can be a ratbag now and then and will bully Chance sometimes if she thinks she can get away with it. We go to training classes for fun and she enjoys learning new things and showing off very much.
She also copes with being left although would still rather not be left if possible. We have had health causing a few complications with her needing treatment for luxating patella and also pancreatitis which led to her needing several nights in the emergency vets (and is the reason I now have a dog with a history of resource guarding who sleeps on my bed - possibly not the wisest decision ever!!)
Getting a puppy sister was a huge decision and caused much stress for both of us initially but that has worked out pretty well too now and I think I can safely say she is a happy reasonably behaved girl. All done with positive reward based training.