Discussion Starter
·
#1
·
WOW there are so many dinky little pups on here these last few days, Poppy seems huge in comparison but she is still so cute and still melting our hearts every day!
She can now do sit, paw, down, twist, roll over, jump, woof and our favourite, 'bang!' to command, most of the time only for food/treats but I'm sure we'll get there!
She is 13 weeks now and still doing very well. Sleeping for 12 hours at night, still without wetting the bed which must be some kind of scientific record as she has to pee every hourish when she is awake!!!
Still on JamesWellbeloved food and she now has same brand treats, little bones which are great for training. Absolutely adores peanut butter frozen kong too!!!
Hope everyone is having a nice day I am having a great hour or so pretending to work but looking at everyone's new puppy photos/stories!
Also just set up pitapata which is also quite an achievement for me combining websites and codes etc! It is pretty straight forward for anyone who thinks it might be too complicated, it's really not!
Oh and I almost forgot the reason I am on this thread title, some photos!
Just a few from the week...
'Poppy, SIT!' .... 'No mummy, I know that the camera isn't a treat so I'm going to stand here and look pretty instead...'
Just this week Poppy has grown big enough to jump onto and off the sofa! Goodbye clean, fluffy, cream sofa!!!
And this one just because she looks so cute (she does have eyes somewhere!)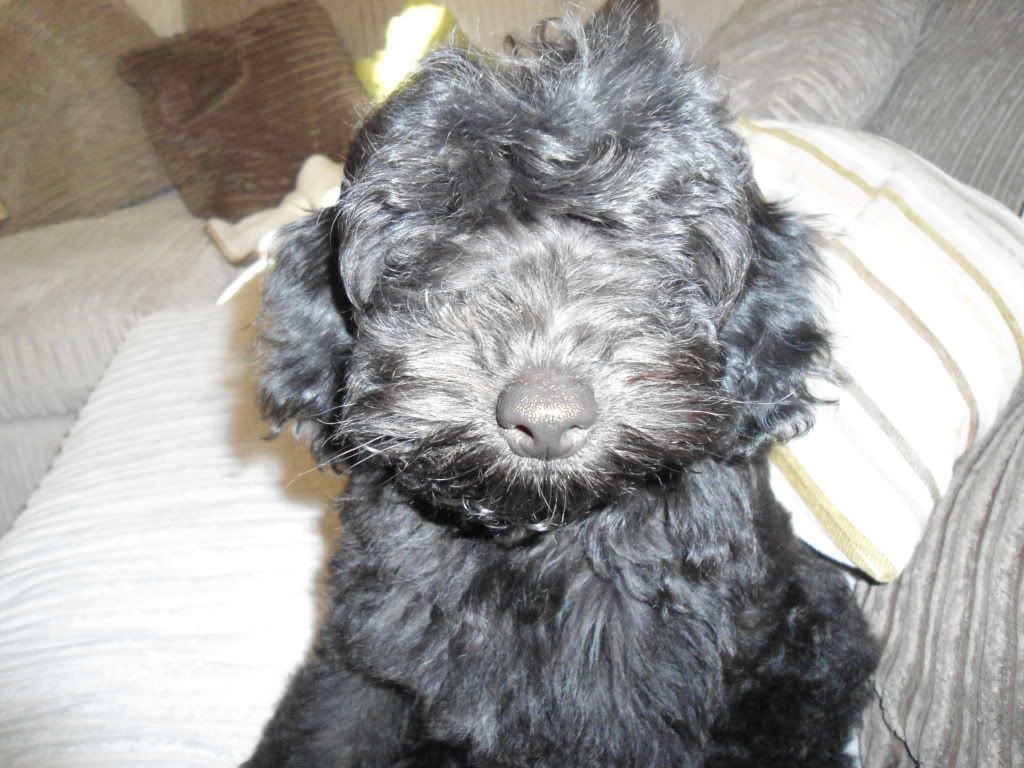 Annie and a woof woof from Poppy